Programme pour encourager l'entrepreneuriat chez 10,000 femmes
Thunderbird School of Global Management commencera à recruter des femmes entrepreneurs en Haïti pour offrir des bourses d'etudes à un programme d'éducation d'affaires complet, qui aura lieu à Thunderbird, School of Global Management aux Etats Unis. Les candidats intéressés devront remplir un formulaire de demande, et le soumettre par courriel à l'Ambassade des États-Unis en Haïti. L'Ambassade effectuera la première ronde d'entrevues et passera les premiers candidats choisis à Thunderbird et l'équipe de Goldman Sachs. Thunderbird School of Global Management acceptera entre 20-28 femmes, et la classe sera livrée en Créole (avec l'aide d'un interprète) à partir du 13 Octobre – 28 Octobre, 2012.
L'objectif du programme sera d'enseigner les principes commerciaux dans un cadre approprié pour les pays servis, et pour aider les participantes à élaborer des plans d'affaires appropriés pour présenter à des investisseurs potentiels, et avoir comme outil prêt pour planification stratégique d'entreprise. Le programme se concentre sur l'application pratique des affaires d'entreprise dans le but de faciliter l'expansion des entreprises existantes.
Pour postuler, cliquez sur les liens ci-dessous – Les formulaires d'application doivent être soumis au plus tard le 20 août 2012.
Version Anglaise: http://haiti.usembassy.gov/pe-10000-women-entrepreneurs-august-7-2012.html
Version Française: http://french.haiti.usembassy.gov/pe-10k-women-entrepreneurs-august-7-2012.html
---
Pour plus d'informations:
Website: www.thunderbird.edu/t4g
Twitter: @TbirdforGood
Facebook: www.facebook.com/Thunderbird.for.Good
Contact: Amy Scerra, Program Manager, amy.scerra@thunderbird.edu
---
10,000 Women Entrepreneurship Partnership program
Thunderbird School of Global Management will begin recruiting women entrepreneurs in Haiti to participate in a full scholarship business education program, held in Arizona at Thunderbird, School of Global Management. All applicants fill out an application, submitting it with the US Embassy in Haiti. The Embassy will conduct the first round of interviews and first round selections – passing on their top choices to Thunderbird and the team at Goldman Sachs. Thunderbird School of Global Management will be accepting between 20-28 women, and the class will be delivered in French Creole (interpreters) from October 13 – October 28, 2012.
The overall goal of the Entrepreneurship Partnership is to teach business basics in a context appropriate to the countries served, and to help women participants develop business plans suitable for presentation to potential investors and as a ready tool for strategic planning. The curriculum focuses on practical business application with the goal of facilitating the expansion existing businesses.
To Apply, click on the links below – Applications must be received by August 20, 2012.
English version: http://haiti.usembassy.gov/pe-10000-women-entrepreneurs-august-7-2012.html
French version: http://french.haiti.usembassy.gov/pe-10k-women-entrepreneurs-august-7-2012.html
---
For more information:
Website: www.thunderbird.edu/t4g
Twitter: @TbirdforGood
Facebook: www.facebook.com/Thunderbird.for.Good
Contact: Amy Scerra, Program Manager, amy.scerra@thunderbird.edu
---
Written by Dahla
We want to share this extraordinary story of a man whose passion for Haiti led him to make a poignant speech in Chicago, Illinois in 1893. The purpose of his speech was to demonstrate to the Americans that the Haitians were people like themselves who needed to be treated as equal beings; and to explain why there should be an understanding between Haiti and the U.S. His appointment to represent Haiti as the U.S. Minister by President Benjamin Harrison in 1889 was opposed by millions of Americans, but in spite of all opposition he pursued his duties which made his opponents say otherwise of him based on his success.
This African American abolitionist, orator, author, journalist, human activist and statesman was born from a slave mother and a white man in 1817, Maryland. Frederick Douglass escaped slavery by becoming an outspoken antislavery lecturer, writer and publisher. His eloquence, his candid speech and fondness of Haiti brought many people to admire him as an inspiring human being.
His words in starting his speech were as follows:
"My subject is Haiti, the Black Republic; the only self-made Black Republic in the world. I am to speak to you of her character, her history, her importance and her struggle from slavery to freedom and to statehood. I am to speak to you of her progress in the line of civilization; of her relation with the United States; of her past and present; of her probable destiny; and of the bearing of her example as a free and independent Republic, upon what may be the destiny of the African race in our own country and elsewhere."
With that said, reading through his accomplishments and his speech, we can certainly identify all those emotions we had or have about our country, Haiti and how it shaped itself as being a radical yet the most prized Caribbean country. It does not surprise us to see how fond Frederick Douglass was of this beloved country.
Below are a few quotes from Frederick Douglass' infamous speech of 1893 that we extracted to capture your attention and bring dialogue among yourselves.
Quote#1
Haiti is a land strikingly beautiful, diversified by mountains, valleys, lakes, rivers and plains, and contains in itself all the elements of great and enduring wealth. Its limestone formation and foundation are a guarantee of perpetual fertility. Its tropical heat and insular moisture keep its vegetation fresh, green and vigorous all the year round. At an altitude of eight thousand feet, its mountains are still covered with woods of great variety and of great value. Its climate, varying with altitude like that of California, is adapted to all constitutions and productions.

Fortunate in its climate and soil, it is equally fortunate in its adaptation to commerce. Its shore line is marked with numerous indentations of inlets, rivers, bays and harbors, where every grade of vessel may anchor in safety. Bulwarked on either side by lofty mountains rich with tropical verdure from base to summit, its blue waters dotted here and there with the white wings of commerce from every land and sea, the Bay of Port au Prince almost rivals the far-famed Bay of Naples, the most beautiful in the world.
Quote #2
Neither the commercial, geographical or numerical importance of Haiti is to be despised. If she wants much from the world, the world wants much that she possesses. She produces coffee, cotton, log-wood, mahogany and lignum-vitae. The revenue realized by the government from these products is between nine and ten millions of dollars. With such an income, if Haiti could be kept free from revolutions, she might easily become, in proportion to her territory and population, the richest country in the world. And yet she is comparatively poor, not because she is revolutionary.
Quote #3
The attempt to create angry feeling in the United States against Haiti because she thought proper to refuse us the Mole St. Nicolas, is neither reasonable nor creditable. There was no insult or broken faith in the case. Haiti has the same right to refuse that we had to ask, and there was insult neither in the asking nor in the refusal
Quote #4
The prevailing color among them is a dark brown with a dash of chocolate in it. They are in many respects a fine looking people. There is about them a sort of majesty. They carry themselves proudly erect as if conscious of their freedom and independence. I thought the women quite superior to the men. They are elastic, vigorous and comely. They move with the step of a blooded horse.
Quote #5
No other land has brighter skies. No other land has purer water, richer soil, or a more happily diversified climate. She has all the natural conditions essential to a noble, prosperous and happy country. Yet, there she is, torn and rent by revolutions, by clamorous factions and anarchies; floundering her life away from year in a labyrinth of social misery.
Quote #6
Port au Prince, a city of sixty thousand souls, and capable of being made one of the healthiest, happiest and one of the most beautiful cities of the West Indies, has been destroyed by fire once in each twenty-five years of its history. The explanation is this: Haiti is a country of revolutions. They break forth without warning and without excuse. The town may stand at sunset and vanish in the morning. Splendid ruins, once the homes of the rich, meet us on every street.

There is ever a chronic, feverish looking forward to possible disasters. Incendiary fires; fires set on foot as a proof of dissatisfaction with the government; fires for personal revenge, and fires to promote revolution are of startling frequency. This is sometimes thought to be due to the character of the race. Far from it. The common people of Haiti are peaceful enough. They have no taste for revolutions. The fault is not with the ignorant many, but with the educated and ambitious few. Too proud to work, and not disposed to go into commerce, they make politics a business of their country. Governed neither by love nor mercy for their country, they care not into what depths she may be plunged. No president, however virtuous, wise and patriotic, ever suits them when they themselves happen to be out of power.
Quote #7
You will ask me about the President of Haiti. I will tell you. Whatever may be said or thought of him to the contrary I affirm that there is no man in Haiti, who more fully understands or more deeply feels the need of peace in his country than does President Hyppolite. No purer patriot ever ruled the country. His administration, from the first to the last, has had the welfare of his country in view. It is against the fierce revolutionary spirit of a part of his countrymen that he has had to constantly watch and contend.

By reason of recent events and abolition of slavery, the enfranchisement of the negro in our country, and the probable completion of the Nicaragua canal, Haiti has under another aspect, become, of late, interesting to American statesmen. More thought, more ink and paper have been devoted to her than to all the other West India Islands put together. This interest is both political and commercial, for Haiti is increasingly important in both respects. But aside from politics and aside from commerce, there is, perhaps, no equal number of people anywhere on the globe, in whose history, character and destiny there is more to awaken sentiment, thought and inquiry, than is found in the history of her people.
Quote #8
She has in many things been first. She has been made the theatre of great events. She was the first of all the cis-Atlantic world, upon which the firm foot of the progressive, aggressive and all-conquering white man was permanently set. Her grand old tropical forests, fields and mountains, were among the first of the New World to have their silence broken by trans-Atlantic song and speech. She was the first to be invaded by the Christian religion and to witness its forms and ordinances. She was the first to see a Christian church and to behold the cross of Christ. She was also the first to witness the bitter agonies of the negro bending under the blood-stained lash of Christian slave-holders. Happily too, for her, she was the first of the New World in which the black man asserted his right to be free and was brave enough to fight for his freedom and fortunate enough to gain it.

The great fact concerning its people, is, that they were negro slaves and by force conquered their masters and made themselves free and independent. As a people thus made free and having remained so for eighty-seven years, they are now asked to justify their assumption of statehood at the bar of the civilized world by conduct becoming a civilized nation.
Quote #9
Whether she will maintain her liberty and independence, or, at last, part with both and become a subject of some one or another of the powerful nations of the world by which she seems to be coveted. The question still further is, whether she will fall away into anarchy, chaos and barbarism, or rise to the dignity and happiness of a highly civilized nation and be a credit to the colored race? I am free to say that I believe she will fulfill the latter condition and destiny.

The little community of Haiti, anchored in the Caribbean Sea, has taught the world the danger of slavery and the value of liberty. In this respect she has been the greatest of all our modern teachers.
Quote #10
Human greatness is classified in three divisions: first, greatness of administration; second greatness of organization; and the third, greatness of discovery, the latter being the highest of human greatness. In all three of these divisions, Haiti appears to advantage. Her Toussaint L'Ouvertures, her Dessalines, her Christophes, her Petions, her Reguad and others, their enemies being judges, were men of decided ability. They were great in all the three department of human greatness. Let any man in our highly favored country, undertake to organize an army of raw recruits, and especially let any colored man undertake to organize men of his own color, and subject them to military discipline, and he will at once see the hard task that Haiti had on hand, in resisting France and slavery, and be held to admire the ability and character displayed by the sons in making and managing her armies and achieving her freedom.

But Haiti did more than raise armies and discipline troops. She organized a Government and maintained a Government during eighty-seven years. Though she has been ever and anon swept by whirlwinds of lawless turbulence; though she has been shaken by earthquakes of anarchy at home, and has encountered the chilling blasts of prejudice and hate from the outside world, though she has been assailed by fire and sword, from without and within, she has, through all the machinations of her enemies, maintained a well defined civil government, and maintains it to-day.
Quote #11
In Port-au-Prince, which may be taken as a fair expression of the general condition of the country, I saw more apparent domestic happiness, more wealth, more personal neatness, more attention to dress, more carriage rolling through the streets, more commercial activity, more schools, more well clothed and well cared for children, more churches, more teachers, more Sisters of Charity, more respect for marriage, more family comfort, more attention to sanitary conditions, more and better water supply, more and better Catholic clergy, more attention to religious observances, more elegant residences, and more of everything desirable than I saw there twenty years ago.

Before we decide against the probability of progress in Haiti, we should look into the history of the progress of other nations. Some of the most enlightened and highly civilized states of the world of to-day, were, a few centuries ago, as deeply depraved in morals, manners and customs, as Haiti is alleged to be now. Prussia, which is to-day the arbiter of peace and war in Europe and holds in her borders the profoundest thinkers of the nineteenth century, was, only three centuries ago, like Haiti, the theatre of warring factions, and the scene of flagrant immoralities. France, England, Italy and Spain have all gone through the strife and turmoil of factional war, the like of which now makes Haiti a by-word, and a hissing to a mocking earth. As they have passed through the period of violence, why may not Haiti do the same?
Quote #12
I will not, I cannot believe that her star is to go out in darkness, but I will rather believe that whatever may happen of peace or war Haiti will remain in the firmament of nations, and, like the star of the north, will shine on and shine on forever.
Below are more links to read about Frederick Douglass, the individual:
---
Written by Marco
In the months leading to the Olympics, little has been written about our Olympic team and their talent. What we do know is what's been publicized in the news. A recent article by the Washington Post talked about how our Olympians weren't really Haitian because they were born on foreign land. Yet, most of these Olympians insisted that even thought they weren't born in Haiti, as children of Haitian parents living in the US, that they very much felt Haitian.
This overwhelming support & patriotism for Haiti is one of the reasons we even have an "Olympic Team" at all, since only one of the Olympians was actually born in Haiti. Nevertheless, these athletes have all worked hard at reaching the standard required to compete in the Olympics. Having athletes representing our country is a privilege and honor that a lot of other countries don't get to have. For example, Curacao, Vatican City, Kosovo, and South Sudan do not have athletes representing their countries in this year's Olympics.
With that said, the Haitian Olympic team looks promising. To help you assess their chance of capturing a medal, we've written a few facts about them.
| | |
| --- | --- |
| | Marlena Wesh, 21, is a senior at Clemson University. She will be competing in the 200 and 400 meter race. |
| | Moise Joseph, 30, won the Silver at the Central American and Caribbean Games in 2010 and at the Central American and Caribbean Championships in 2011, that were held in Mayagüez, Puerto Rico. He will be competing in the 800 meters race. |
| | Jeffrey Julmis, 25, won the 2012 NCAA Big 12 Indoor 60-meter title while at Kansas State University. He will be competing in the 100-meter hurdle. |
| | Samyr Laine, 28, holds two Harvard University school records for indoor triple jump (51 feet,11 1/4 inches) and outdoor triple jump ( 53 feet, 7 1/2 inches). He will be competing in the Triple Jump. |
| | Linouse Desravine, 21, is the lone Haitian Olympian that was actually born in Haiti. She will be competing in Judoka. |
As a nation, we wish them the best and that they strive for excellence. We are very grateful and proud that Haiti's well represented in the London Olympics.
Quick Facts:
How does Haiti compare to other Caribbean Countries participating in the 2012 Olympics?
| | | |
| --- | --- | --- |
| Haiti | 10,123,787 (2011) World Bank | 5 |
| Dominican Republic | 9,378,818 | 35 |
| Honduras | 8,296,693 (July 2012 est.) | 31 |
| Jamaica | 2,889,187 (July 2011 est.) | 50 |
| Dominica | 71,293 | 2 |
How does Haiti's Olympic Committee's Budget compare to that of a leading nation?
| | |
| --- | --- |
| USA | $170 Million |
| Haiti | $400,000 |
What year did Haiti first compete in the Olympic Games?
1900
What year did Haiti win it's first Olympic medal?
1924. Haiti won the Bronze medal in the Team Rifle Competition
Who is the first and only individual to have won an Olympic medal for Haiti?
Sylvio Cator. He won the Silver medal in the men's Long Jump.
Since 1900, up to now, Haiti has only missed 11 Olympic games (1904, 1908, 1912, 1920, 1936, 1948, 1952, 1956, 1964, 1968, 1980).
Resource:
---
La série OtterBox Defender pour iPad est disponible dans une variété de couleurs à OtterBox.com!
Written by Dahla

Fact:
According to the Centers for Disease Control & Prevention (CDC), viral hepatitis is the leading cause of cirrhosis and liver cancer worldwide. Approximately 1 in 12 persons, or around 500 million people, have chronic viral hepatitis and most of them do not know they are infected. Viral hepatitis is considered to be a major global health threat.
Do you know your Hepatitis status?
July 28th 2012 is an awareness day for all of you to educate yourselves about the prevention, screening, causes & symptoms, vaccines and treatments available for Hepatitis and its related diseases. Information is power! Please share the information with others.
Whether you are a sexually/non-sexually active individual, a healthcare professional, a regular individual, a pregnant or nursing woman, a constant traveler, an alcoholic, a needle user or drug addict, you ought to know about Hepatitis.
Find a testing center. Know your status. Seek treatment. Continue to practice safe sex.
Why July 28th?
World Hepatitis Day was first launched in 2008 by the World Hepatitis Alliance that has been in the forefront along with other organizations, NGO's and World Health Organization (WHO) to bring on thousands of educational tools about the disease to the public, healthcare professionals and media. According to the CDC, July 28th was selected as the date paralleled the birthday of Dr. Baruch Blumberg (1925-2011) who discovered the Hepatitis B virus in 1967, and developed the first Hepatitis B vaccine two years later. Dr Blumberg has won the Nobel Prize for his achievements.
What is Hepatitis?
Hepatitis = Hepat (Liver) & Itis (Inflammation)
Hepatitis is a medical condition that causes inflammation of the liver, which is the largest solid organ in the body. The liver's functions are essential to the body metabolism, storage, detoxification and regeneration abilities and more. Hepatitis can be either acute (lasting less than six months) or chronic (lasting more than six months). Most of liver cells damage is caused by the major types of hepatitis viruses known as Hepatitis A, B and C. However, Hepatitis can also be caused by other factors such as alcohol, toxins and infections leading to other types of hepatitis not usually known of.
Symptoms of hepatitis can include diarrhea, fatigue, loss of appetite, nausea, abdominal pain, muscle or joint aches, vomiting, and much more.
What are the types of Hepatitis?
There are different types of Hepatitis: Hepatitis A, Hepatitis B, Hepatitis C, Hepatitis D and Hepatitis E. Other types are autoimmune hepatitis, drug-induced hepatitis, alcoholic hepatitis and more.
You can start a dialogue with your healthcare provider in educating yourselves about the different types of hepatitis with their causative factors. (Sources: National Digestive Diseases Information Clearinghouse (NDDIC); NYC-Department of Health & Mental Hygiene (NYC DOHMH); American Liver Foundation; MedicineNet.com)
Below is a diagram that depicts some of them. Click on the links shown for further details:
Below is a diagram that depicts the different liver diseases that can be caused by Hepatitis.
Figure 1: Liver Diagram depicting diseases led by Hepatitis if left untreated.
(Gallbladder is green).
Resources:
Traveler's Health Information – CDC

Hepatitis Resources in Creole

Other Links about Hepatitis & related diseases

Links for condoms & sterile needles distribution

Centers for Disease Control and Prevention
1600 Clifton Rd, Atlanta, GA 30333
Phone: (800) 232-4636 TTY: (888) 232-6348
Phone: (877) 394-8747 (international travel)
Email: cdcinfo@cdc.gov
Web: www.cdc.gov/hepatitis

National Digestive Diseases Information Clearinghouse
2 Information Way, Bethesda, MD 20892–3570
Phone: (800) 891–5389 TTY: (866) 569–1162
Email: nddic@info.niddk.nih.gov
Web: www.digestive.niddk.nih.gov

American Liver Foundation
75 Maiden Lane, Suite 603, New York, NY 10038
Phone: (800) 465 – 4837 or (212) 668 – 1000
Email: info@liverfoundation.org
Web: www.liverfoundation.org

Hepatitis Foundation International
504 Blick Drive, Silver Spring, MD 20904
Phone: (800) 891–0707 or (301) 622 – 4200
Email: hfi@comcast.net
Web: www.hepfi.org
La série OtterBox Defender pour iPad est disponible dans une variété de couleurs à OtterBox.com!
Written by Dahla
The 6th Annual Independent Handbag Designer Awards show is becoming a household name in the Fashion industry; thanks to Emily Blumenthal, the founder of Handbag Designer 101. This tenacious, mentor, inspiring business woman followed her passion and made her vision a reality. The Handbag Awards show gives a competitive platform for upcoming and established designers to showcase their accessory designs and to expand their brand through publications and winning prizes set for the different competition categories. Some of the prizes give the winner an opportunity to have their collection manufactured: to be featured in the InStyle magazine; to collaborate with well-known companies such as Timberland, Singer and much more. The prizes are different each year and announced at the time of application. This year Icon's recipient Award was Kenneth Cole and everyone was in awe of his lifetime achievements in the fashion industry and his philanthropic endeavor.
This year, I was very proud to see a Haitian designer among the finalists of the Handbag Award show. The Haitian accessory designer, Nora David presented her eco-friendly creativity in the "Most Socially Responsible Handbag" category. In this category, the bags are required to be made in a country where the proceeds are given back to the country of manufacturing or to the people that are employed to manufacture handbags to better their lives. Thus, the category was well suited for Nora David to enter such competition as she is the proud owner of her handbag business in Haiti and she contributes to the labor force by employing local people and helps their children to further their education. Though, she was not the winner of such category, Nora David is already a winner in my mind by being proactive and giving back to her country.
| | |
| --- | --- |
| Bags entered in the "Most Socially Responsible" Handbag category | Nora David's selected Handbag at the Award Show |
This handbag competition brought designers from all over the world, from Europe to Latin America, which is so different from its inception in 2007. What I would suggest to every artist, designer, architect or creative mind is to never give up on your long time dreams. Be a trend setter and not a follower! Be bold and meaningful in your designs! It is important to take risks and step outside of your comfort zone to make a name for yourself. Lastly, to my fellow Haitian artists and designers, go conquer the world while staying true to your talents. I believe that the more Haitian designers to participate in overseas competitions / events, the more exposure for their brand to be recognized not only locally but internationally. Definitely, let's support each other!
I would describe Nora David's handbag collection to be light, refreshing, sturdy and inviting to the eye. Her handbags can be worn to eclectic places or for a summer vacation. Click on the link for a glance at Nora David's handbag collection:
http://www.collectionsxaragua.com
.
Les Chefs d'Etat d'Haiti
| | |
| --- | --- |
| | |
---
| | |
| --- | --- |
| | |
---
Resource:
List of Presidents that served in Haiti from 1758 – 2011
Source: La Presidence
La série OtterBox Defender pour iPad est disponible dans une variété de couleurs à OtterBox.com!
Toussaint Louverture
(1743 – 1803)

"En me renversant on a abattu à Saint-Domingue que le tronc de l'arbre de la liberté des Noirs, il repoussera par les racines car elles sont profondes et nombreuses."

Dix petits faits inconnus sur Toussaint Louverture:

Toussaint est né Bréda, recevant alors le nom de son propriétaire, Bréda. Plus tard, après son succès au combat, il changea son nom à Louverture, basée sur sa capacité de trouver ouverture dans tous scénarios.
Son maître l'encouragea à apprendre à lire et à écrire. Il ne laisse pas passer cette education, et fini à lire et écrire parfaitement, se plongeant dans les livres des philosophes grecs et francais.
Affranchi en 1776, à l'âge de 33 ans, il entama une carriere de colon, avec esclaves et terre sous sa direction.
Toussaint etait surnommé "Fatras-Bâton". Selon l'histoire, c'était à cause de sa taille et son apparence.
Quand il épousa Suzanne Simon-Baptiste, elle etait deja mère d'un garcon, faisant de lui un beau-père.
Toussaint a été initié à l'art de la guerre par les militaires espagnols.
Toussaint etait aide-de-camp et médecin de Georges Biassou, qui plus tard, faute de jalousie, complota un attentat en 1794 contre Toussaint. Il en réchappa, mais son jeune frère y périt.
Toussaint n'a pas pris part aux premiers évènements de 1791, inclue la cérémonie de Bois-Caïman, n'étant alors plus esclave lui-même.
Décidé à remettre l'économie de l'île sur pied, Toussaint publie en 1800, un règlement reconduisant le travail forcé des Noirs sur les plantations.
Sa tombe n'a jamais été marqué. Personne ne sait où il est enterré.
---
| | |
| --- | --- |
| Une réalisation de Philippe Niang et de Sandro Agenor, titulée "Toussaint Louverture", mettant en vedette le célèbre acteur Haïtien Jimmy Jean-Louis dans le role de Toussaint Louverture. | Un drame documentaire créée par PBS, et intitulé "Toussaint Louverture et la Révolution Haïtienne" |
---
| | |
| --- | --- |
| Lettre adressée à Rochambeau, General-en-Chief (8 Juilliet, 1796). | Décret passé par Toussaint L'Ouverture contre l'insurrection de 1801. |
---
Lieux à visiter

"Le Chateux de Joux"
Toussaint Louverture fut enfermé au Château de Joux, où il mourut le 7 avril 1803, à 60 ans.

La cellule de Toussaint Louverture.
---
Resource:
Activite/Activity:
Prenez le temps d'apprendre quelque chose sur les Tramways de Port-au-Prince
Extrait de Tramz.com…
"La première concession pour la construction d'un tramway fut accordée en 1876 à un groupe de financiers de New York, qui fondèrent la Compagnie des Chemins de Fer de Port-au-Prince. La première ligne, que liait la Croix des Bossales au Champ de Mars, fut probablement le premier chemin de fer du pays…Dans les six premiers mois de fonctionnement le tramway transporta 250,000 passagers. L'écartement de la voie était de 762 mm (30 pouces impériaux)."
"Le tramway courageux de Port-au-Prince disparut complètement en 1932. Son matériel roulant fut probablement transféré à des plantations de café ou de sucre, où il roule peut-être encore . . . Les cartes topographiques des années 50 suggèrent une fusion des lignes rurales de l'ancienne CCFPCS avec le réseau de la Compagnie Nationale des Chemins de Fer d'Haïti."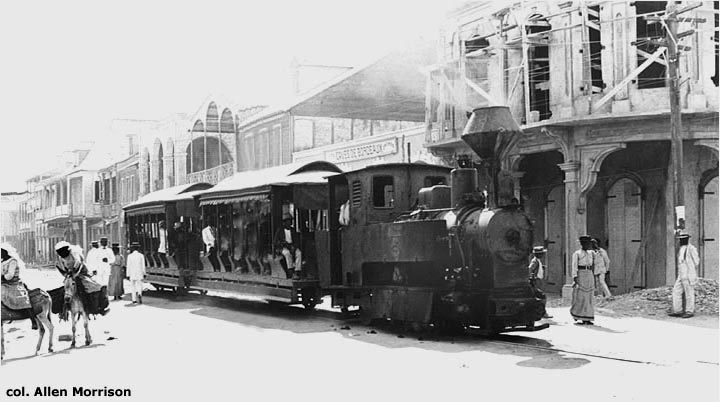 Resources:
On the subject of Double Nationality for Haitians…
In the years spent away from Haiti, many Haitians have become naturalized citizens of other countries, and have been born abroad. Though there are many Haitian who are happy to have left Haiti behind, many more long for the day they can safely go back to Haiti. In essence, "going back" to Haiti is not just part of the "Haitian" dream, but it is also part of the "American" dream, part of the "Canadian" dream, and part of the "Dominican" dream for many Haitians now occupy other nationalities.
Although this has reduced our number of Haitian Citizens, this movement has in fact benefited us greatly, for we've been able to make a difference in countries and communities outside of Haiti. Michaëlle Jean, former governor general of Canada, and W.E.B. Dubois, one of the co-founders of the NAACP, whose father Alfred left Haiti sometime before 1860, are just a few of these examples. Throughout the world, Haitians have played a great part in forming and shaping businesses, policies, and being the driving force behind positive change. For example, as Haiti currently struggles to revive its Tourism industry, the hospitality industry abroad benefits from a large Haitian workforce. Common sense would dictate that if employment, land ownership, and voting rights were accorded to these citizens, that they would equally flourish in Haiti.
Unfortunately, double nationality is still an issue that has not been laid to rest, even after the promises made by Haiti's President, during his election campaign. Just like the poor income per capita, this is an issue that refuses to go away, and maybe it's because they might just go hand in hand. Yes, we are all looking for answers to Haiti's problems, but let's not forget that a large portion of our talent pool lies abroad. These people have also struggled, for they've had to move to a foreign land, learn a new language, earn a living, get an education, and then make their mark. If they can do this in another country, there's no telling what they could do for Haiti.
---
| | |
| --- | --- |
| | |
---
Resources:
This Q&A about the Dual Citizenship Amendment to the 1987 Constitution was put together by the Haitian Congress PAC.
Document Source: Haitian Congress PAC
Sommaire de la Politique Générale
du Premier Ministre Laurent Lamothe
Partie II-A
~ Cree par Haiti1Stop
Haiti1Stop vous presente Partie II-A de notre Sommaire de la "Politique Générale" du Premier Ministre Laurent Salvador Lamothe. Pour lire notre sommaire de Partie I de ce document, clickez ici. Nous révélerons le reste de Partie II et III dans les jours à venir.
La série OtterBox Defender pour iPad est disponible dans une variété de couleurs à OtterBox.com!