Haitian Proverbs
Sa je pa we, ke pa tounen
(What the eye doesn't see, will not move the heart)
Ou kouri pou lapli, wal tombe nan basin
(You start running because of the rain, but end up falling in a basin)
Jou fèy tonbe nan dlo, se pa jou li pouri
(A leaf doesn't wilt the same day it falls in water)
Pwomès se dèt
(A promise is a debt)
Do any of these sound familiar? If they do, it's probably because you've been guilty of saying them, or someone in your family keeps saying them to you. Either way, Haitian Proverbs play a big part in Haitian culture. We've all had someone forewarn us or teach us a lesson by reciting these proverbs.
Please share with us your favorite Haitian Proverb.
Resources:
La série OtterBox Defender pour iPad est disponible dans une variété de couleurs à OtterBox.com!
Question:
Lequel des ancêtres Haïtiens admirez-vous le plus ? Et pourquoi ?
Kilès nan zansèt ayisyen ou pi admire? Epi pou kisa?
Which Haitian ancestor do you admire the most? And why?
Toussaint L'Ouverture

Jean Jacques Dessalines

Henri Christophe

Alexandre Petion

Francois Capois

Jean Pierre Boyer

Catherine Flon

Choisissez un.
Pick one.
Please share your insights with us below or on our Facebook page.
---
Looking for news about Haiti? Whether it is for serious news or leisure reading, please do take advantage of the informational resources Haiti1Stop™ has to offer. Click on our "News" section filled with news from newspapers, bloggers, and entertainment sites.
Written by Dahla – Follow us on Twitter @Haiti1Stop
Quelques mots pour la Saint-Valentin
La fête de Saint-Valentin n'est pas seulement un jour pour les amants. Il s'agit aussi d'une journée de reconnaissance de l'amour en nous pour aider les autres. Souvent, nous nous appuyons sur cette seule journée pour être gentil, romantique, attentif, ou affectueux à ceux que nous aimons. C'est normal de célébrer cette journée avec ses proches mais il est également important de montrer notre amour et notre compassion durant toute l'année.
Nous avons réalisé que la plupart des gens au jour de la Saint-Valentin peuvent sentir plus d'insécurité simplement parce qu'ils sont seuls, ils n'ont pas d'amants, ou ils ont des situations difficiles. Cepedant, le facteur le plus important, est de "VOUS AIMER" avant tout! Ne laissez pas une seule journée ruiner vos émotions juste parce que vous êtes seul ou que vous n'avez pas quelqu'un romantique avec vous.
Si vous n'avez pas de Valentin or Valentine pour celebrer ce jour, nous aimerions que vous sélectionnez une organisation de bienfaisance ou une personne dans le besoin afin d'étendre votre amour pour eux, en les aidant.
Pour tous les jeunes et les adultes, il est important de ne pas avoir des relations sexuelles simplement a cause de la Saint-Valentin et que vous aimeriez etre aimé. Restez fidèle à vous-même!
Pour les personnes (individus consentants) qui prévoient d'avoir des rapports sexuels pour la Saint Valentin, s'il vous plaît soyez responsable en utilisant un préservatif. Haiti1Stop vous dit: Pas de préservatif, pas d'amour.
L'amour, c'est la réflexion, la compréhension, le respect, l'humilité, la vérité, la famille, la passion et beaucoup plus. Alors, pour la Saint-Valentin, il serait sage de définir ce que l'amour signifie pour vous afin d'eviter des regrets.
Haiti1Stop étend son amour et ses prières pour tous les orphelins, les handicapés, les victimes du seisme, les familles en deuil, les enfants disparus, les ancêtres, les mères aimantes et les parents et des millions d'autres familles. Souvenez–vous que le vrai amour ne peut pas être acheté, il peut se faire sentir, il peut être apprécié, il peut être contagieux, et peut être exprimé à tout moment et n'importe où, par un proche ou un étranger, et il ne coûte rien du tout, et surtout le vrai amour ne fait pas de mal.
Souhaits de Haiti1Stop pour la Saint-Valentin: Soyez heureux! Soyez reconnaissant! Soyez plein d'espoir!
A few words on Valentine's Day
Valentine's Day is not solely a lover's day. It is also a day to acknowledge the love within us towards others. Often, we rely on this only day to be nice, to be romantic, to be caring or to be loving to the ones we love. While it is a good thing to be in the moment and genuinely celebrate that day with loved ones, it is also important to show our love and caring throughout the year.
We realize that most people on Valentine's Day might feel the most insecure just because they are lonely, single, or they do not have a boyfriend or they are going through difficult situations. The number one factor is to "LOVE YOU" first. Do not let just one day ruin your emotions just because you are lonely or you do not have someone to be romantic with.
If you do not have a Valentine to celebrate with, we challenge you to select a charity, or a person in need, to be your Valentine and extend your love to them by helping them.
For all the youngsters and adults, please do not have one night stand just because it is Valentine's Day and you want to be loved. Do not have sex just because it is Valentine's Day. Stay true to yourself and respect yourself!
For people (consenting individuals) planning to have sex on Valentine's Day, please be responsible and buckle up, which means do use a condom. Haiti1Stop tells you: No condom, No love.
Love is about thoughtfulness, understanding, respect, humility, learning, truth, family, passion and much more. So, whatever it may be for Valentine's Day, it would be wise to define what love means to you before you do anything regretful.
Haiti1Stop extends their love and prayers to all of you: the orphans, the disabled, the earthquake victims, the mourning families, the needy ones, the missing children, the ancestors, the loving mothers and parents and millions of other families. Remember true love cannot be bought, it can be felt, it can be appreciated, it can be contagious, it can be expressed anytime and anywhere by a loved one or a stranger and it does not cost much at all and most importantly true love does not hurt.
Haiti1Stop Valentine's wishes: Be Happy! Be Thankful! Be Hopeful!
Want to leave a comment? If so, please drop us a note on our Facebook page.
Whether it is Christmas, Hanukkah, or Kwanzaa, the important thing is to acknowledge your blessings to the Divine Source. Let's be humble and count our blessings in everything we do. Volunteer your time wisely to help others, bring comfort to someone in need, be present in the moment and do not let the purchasing of gifts, and attending of events, overwhelm you to the point that it overshadows the true meaning of the holiday season.
We get so caught up that often we forget to pay attention to where the mind really needs to be. Do not feel pressured into buying things that you do not need and cannot afford to buy. Invite your children in the spirit of giving to others whether it is a meal, a piece of clothing, a candy, a card, a smile, or more attention, the gesture will be appreciated.
Haiti1Stop wishes hope and positive beginnings to the families who've lost a loved one to a natural disaster, and those who are still struggling daily.
Count your blessings, because you never know when you will ever be in need, which is why it is also very important that you acknowledge and respect everyone.
Haiti1Stop words of wisdom:
Impact people's lives differently in 2013.
Start the New Year with a positive mind.
Start with a journal by writing your thoughts, accomplishments, and hopes.
Define the "how", the "why" and the "who" in your life that is keeping you from becoming the best person you can be.
Reach out to others: a neighbor, a friend, a school, a shelter, a parish, a beggar on the streets, a nonprofit or a cause and many other avenues to make a difference in someone's life by the end of this year and continue with the tradition yearly.
Leave positive imprints everywhere you go.
Love, respect, support, encourage and help one another.
---
Written by Dahla

According to the World Health Organization, October 10 is dedicated to raising public awareness about mental health issues. Their fact sheet on Depression reveals the following:
Depression is a common mental disorder. Globally, more than 350 million people of all ages suffer from depression. 
Depression is the leading cause of disability worldwide, and is a major contributor to the global burden of disease.
More women are affected by depression than men.
At its worst, depression can lead to suicide.
There are effective treatments for depression. Though, access to treatment is a problem in most countries and in some countries fewer than 10% of those who need it receive such treatment.
Depression is a serious and alarming situation where most people in the Haitian community often disregard this illness and they do not seek help for proper treatment. Depression is real and it can happen to anyone, at any age, at any social and financial status. It can either be short-term or long-term depending upon the underlying factor and if it is left untreated, depression can leave the individual in a debilitating state. Sometimes, you would hear the word "moun fou" in Haiti (meaning crazy person) to identify an individual who has lost their mental abilities to comprehend and be logic in their regular activities. I often wondered if that person was to be seen by a medical doctor or licensed healthcare professional, would the diagnosis still be "moun fou"?  I don't know but I always had doubts in my mind when I hear someone labeled as "moun fou" and that hurts.  
We have a long way to go in our community to remove the stigma of a "moun fou" as if that person has no emotions, no desires, and no love. I see people often laughed at those who are homeless, depressed or just act strangely to them just because they are odd to their eyes; but they forget that those people need help and have a story to tell. I would say that we can all be subjected to one day, in our lives to be depressed and that most of us can bounce back easily from it. But, for some, they may require medical treatment to become "normal" again which can be different in the eye of the beholder.
A tragedy, a specific trauma, a chronic illness, substance dependency,  the loss of a loved one, years of unemployment, the end a relationship, the loss of a child, long term injuries, natural disasters such as the 2010 Haiti earthquake, the tsunami, and many other situations can lead to depression. Whatever the case may be, we ought to listen to our bodies, to our emotions and reach out to others and seek help. And, sometimes our family and friends or colleagues are the ones that may bring it to our attention to see a mental health professional or a psychologist. From my perspective, when an individual has a mental disorder, their entire family suffers as well so I would say depression is a family, social and community illness and we  need to be more compassionate to each other and to the loved ones affected by a mental disorder.
Don't suffer in secrecy! Do not be ashamed to acknowledge your depression!  Do seek help! 
There needs to be more training in our community, more health tools to treat the different types of mental disorders and prevent misdiagnosis. If you are diagnosed with a mental illness, know that you are not alone and please seek the proper treatment suitable to your needs. Find out about the clinics, health centers in your neighborhood that offer mental health treatment for your ethnicity and especially finding the right professional that speaks your language. Furthermore, if you are seeing a counselor, a psychotherapist, it does not automatically mean that you are a " moun fou" (crazy person).
Take time to review the resources listed below and share them with friends and family. Let's help each other be in a better place by acknowledging others, making them feel at ease to talk to us and by listening to their emotions through great communication.
Remember, a person with a mental disorder still needs to be loved!
Resources:
---
La série OtterBox Defender pour iPad est disponible dans une variété de couleurs à OtterBox.com!
Les Chefs d'Etat d'Haiti
| | |
| --- | --- |
| | |
---
| | |
| --- | --- |
| | |
---
Resource:
List of Presidents that served in Haiti from 1758 – 2011
Source: La Presidence
La série OtterBox Defender pour iPad est disponible dans une variété de couleurs à OtterBox.com!
Toussaint Louverture
(1743 – 1803)

"En me renversant on a abattu à Saint-Domingue que le tronc de l'arbre de la liberté des Noirs, il repoussera par les racines car elles sont profondes et nombreuses."

Dix petits faits inconnus sur Toussaint Louverture:

Toussaint est né Bréda, recevant alors le nom de son propriétaire, Bréda. Plus tard, après son succès au combat, il changea son nom à Louverture, basée sur sa capacité de trouver ouverture dans tous scénarios.
Son maître l'encouragea à apprendre à lire et à écrire. Il ne laisse pas passer cette education, et fini à lire et écrire parfaitement, se plongeant dans les livres des philosophes grecs et francais.
Affranchi en 1776, à l'âge de 33 ans, il entama une carriere de colon, avec esclaves et terre sous sa direction.
Toussaint etait surnommé "Fatras-Bâton". Selon l'histoire, c'était à cause de sa taille et son apparence.
Quand il épousa Suzanne Simon-Baptiste, elle etait deja mère d'un garcon, faisant de lui un beau-père.
Toussaint a été initié à l'art de la guerre par les militaires espagnols.
Toussaint etait aide-de-camp et médecin de Georges Biassou, qui plus tard, faute de jalousie, complota un attentat en 1794 contre Toussaint. Il en réchappa, mais son jeune frère y périt.
Toussaint n'a pas pris part aux premiers évènements de 1791, inclue la cérémonie de Bois-Caïman, n'étant alors plus esclave lui-même.
Décidé à remettre l'économie de l'île sur pied, Toussaint publie en 1800, un règlement reconduisant le travail forcé des Noirs sur les plantations.
Sa tombe n'a jamais été marqué. Personne ne sait où il est enterré.
---
| | |
| --- | --- |
| Une réalisation de Philippe Niang et de Sandro Agenor, titulée "Toussaint Louverture", mettant en vedette le célèbre acteur Haïtien Jimmy Jean-Louis dans le role de Toussaint Louverture. | Un drame documentaire créée par PBS, et intitulé "Toussaint Louverture et la Révolution Haïtienne" |
---
| | |
| --- | --- |
| Lettre adressée à Rochambeau, General-en-Chief (8 Juilliet, 1796). | Décret passé par Toussaint L'Ouverture contre l'insurrection de 1801. |
---
Lieux à visiter

"Le Chateux de Joux"
Toussaint Louverture fut enfermé au Château de Joux, où il mourut le 7 avril 1803, à 60 ans.

La cellule de Toussaint Louverture.
---
Resource:
Activite/Activity:
Prenez le temps d'apprendre quelque chose sur les Tramways de Port-au-Prince
Extrait de Tramz.com…
"La première concession pour la construction d'un tramway fut accordée en 1876 à un groupe de financiers de New York, qui fondèrent la Compagnie des Chemins de Fer de Port-au-Prince. La première ligne, que liait la Croix des Bossales au Champ de Mars, fut probablement le premier chemin de fer du pays…Dans les six premiers mois de fonctionnement le tramway transporta 250,000 passagers. L'écartement de la voie était de 762 mm (30 pouces impériaux)."
"Le tramway courageux de Port-au-Prince disparut complètement en 1932. Son matériel roulant fut probablement transféré à des plantations de café ou de sucre, où il roule peut-être encore . . . Les cartes topographiques des années 50 suggèrent une fusion des lignes rurales de l'ancienne CCFPCS avec le réseau de la Compagnie Nationale des Chemins de Fer d'Haïti."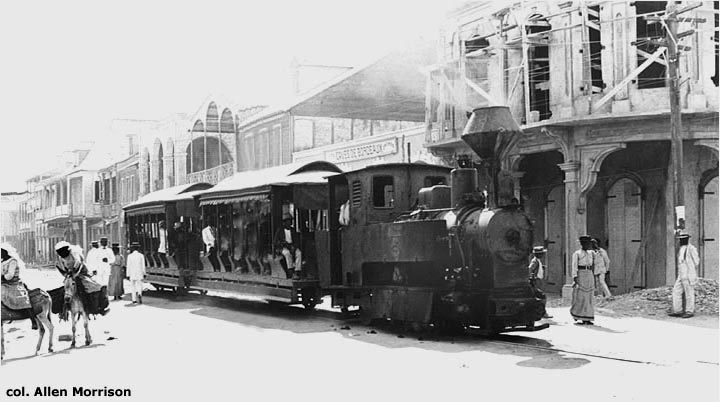 Resources: